Keisha "TK" Dutes
host
Keisha "TK" Dutes is an independent audio producer and co-host of TK in The AM, recently celebrating 1000 episodes of live streaming morning radio on Bondfire Radio. With experience spanning terrestrial radio (WBAI-NY) , online, podcast (Buzzfeed's "Thirst Aid Kit") and audio drama, her life is in audio is all encompassing.
Rose Eveleth
host
Rose Eveleth (she/her) is a writer and producer who explores how humans tangle with science and technology. She's the creator of Flash Forward Presents and host of Flash Forward and Advice For And From The Future. In her work, she's covered everything from fake tumbleweed farms to million dollar baccarat heists.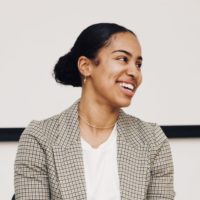 Brittani Taylor Brown
Producer
Brittani Brown is a dynamic podcast and video editor and producer. Most recently, she was an Associate Podcast Producer/Editor for Glitch. Previously, she worked as an editor at Viacom for a number of years. As the founder of BarbraJean Productions, LLC, a company dedicated to educating and informing in order to uplift and inspire through various aspects of media, she has written, directed, and produced three independent films.
Conscious Walker
Engineer
Conscious Walker is a multi-disciplinary artist, public speaker and the co-founder of Bondfire Radio.
T.H. Ponders
Sound Designer
T.H. Ponders (they/them) is the creator of the award winning art history and museum experience podcast Accession, as well as the creator of Mars' Best Brisket, The Wanderer, and Rogue Fun. They have also worked in various roles on over a half dozen other shows, including What's the Frequency? CARAVAN, Hit the Bricks, and History is Gay. When they're not soundscaping impossible worlds or struggling to write about art, they can usually be found teaching dance, driving to strange places, and being mediocre at Mario games.
Walter Parenton
ARTIST
Hi, my name is Walter!
I like food, candy, reality tv, art and dogs!
I am a creative director, motion designer and illustrator, check out my work!